News Center
Bringing you the latest news and events from Gateway Community College.
Academics News
Gateway Community College Receives Program Excellence Award for Student Success Outcomes
Share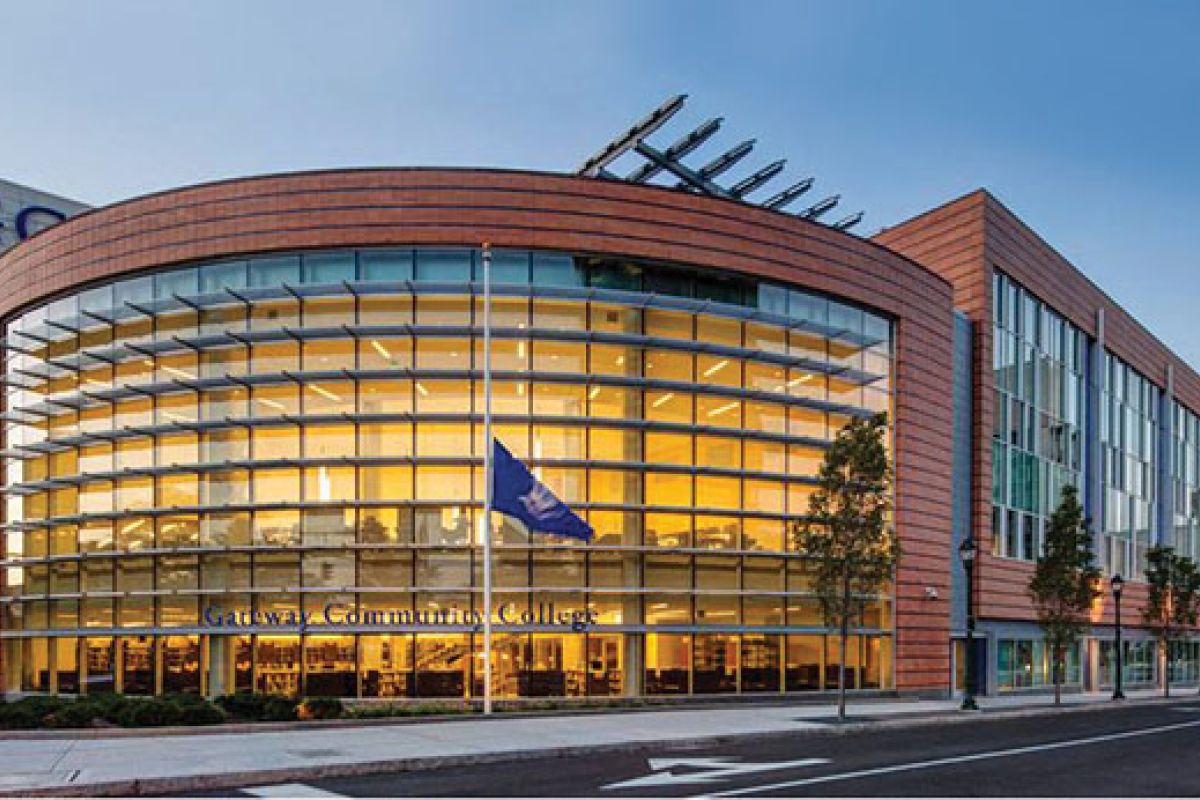 Gateway Community College was presented a Program Excellence Award from Achieving the Dream this summer for exceeding graduation benchmarks in its Gateway to College (GtC) program, which aims to help at-risk students complete their high school degree and continue on to college.    
The award recognizes positive outcomes for students participating in the early college program, and is presented to participating institutions that have exceeded the graduation benchmark established by the Gateway to College network. Of the 30 colleges, Gateway CC is one of 11 to have exceeded all four benchmarks.   
"This is exciting news, and affirms our commitment to creating opportunities, equity and economic growth for thousands of students in the greater New Haven area," said Gateway Campus CEO William "Terry" Brown, Ph.D. "This partnership with New Haven Public Schools makes it possible for students who may not have graduated from high school to become college graduates. We are proud to be part of this work of helping these young people be successful."  
Supported by Achieving the Dream (ATD), the GtC program facilitates sustainable, revenue-sharing partnerships between local colleges and school districts.   
The early college program was launched at Gateway four years ago under the leadership of Gateway's GtC director Erik Murrell, LMSW, and is the result of collaboration with New Haven Public Schools, the City of New Haven, Gateway Community College Foundation and other organizations.   
"I have witnessed first-hand how hard these GtC students have worked, and observed as many of them have become more empowered with each accomplishment," said Murrell. "As a team we are honored and privileged to have played a small role in propelling them toward their academic and professional goals."   
The program at Gateway has served 188 disconnected students since its inception, 112 of whom earned their high school diplomas while completing 10 to 17 college credits. About half the students who graduated went on to register for classes as traditional college students, and several graduated from Gateway Community College.   
With campuses in New Haven and North Haven, Gateway serves over 5,000 credit students each semester, offering more than 75 associate degrees, seamless transfer pathways to four-year colleges, and preparation for in-demand careers.   
There is still time to enroll for fall courses at Connecticut's community colleges, including Gateway. For more information on free community college and how to apply for September late start courses, visit ct.edu/apply. 
The 12 Connecticut community colleges are merging in 2023 to become CT State Community College, one of the largest community colleges in the country and largest in New England, dedicated to quality, access and affordability. CT State students will be able to apply once and take classes at any campus. In addition to Gateway, other locations include Asnuntuck (Enfield), Capital (Hartford), Housatonic (Bridgeport), Manchester, Middlesex (Middletown & Meriden), Naugatuck Valley (Waterbury & Danbury), Northwestern (Winsted), Norwalk, Quinebaug Valley (Danielson & Willimantic), Three Rivers (Norwich), and Tunxis (Farmington) Community Colleges.    
All 12 Connecticut community colleges are part of the Achieving the Dream (ATD) national network, which consists of more than 300 colleges nationally dedicated to advancing student success and growing as catalysts for equitable, antiracist, and economically vibrant communities. 
---
Preview of next Academics News Article
Connecticut's community college system, was ranked No. 1 in the nation by WalletHub this week, and several of the community colleges ranked among the top 15 in the country in the financial website'...
---
Other Gateway Community College News
Latest Academic News
Latest Alumni News
Latest Arts & Culture News
Latest Campus Life News
Latest Community News