News Center
Bringing you the latest news and events from Gateway Community College.
Alumni News
Kosher Restaurant Opened by Former Gateway Student
Share
The COVID-19 pandemic could not crush the entrepreneurial dreams of former Gateway Community College student Ephrat Lieblich, the new co-owner of Ladle & Loaf, a Kosher Middle Eastern fusion restaurant that recently opened in New Haven.
Ephrat, who completed a certificate in Digital Media & Web Design Training in 2019, opened the restaurant this past November with her husband, Benny, a chef. Without many Kosher restaurants in the area, the couple saw an opportunity to create a new dining option showcasing Benny's culinary talents and opened Ladle & Loaf at 357 Whalley Avenue. Specialties include Falafel, Couscous Grain Bowl, Hummus Bowl, Herb Grilled Chicken and Shawarma. 
Each week they feature a dish, a weekly special, from the Middle Eastern region. Dishes incorporate the flavors of India to Northern Africa and the restaurant offers dine-in, curbside pickup, and will be offering delivery in the near future. The couple also run a Kosher catering company, the Gusto Kitchen. 
Ephrat said that they had long thought about opening a restaurant and the emergence of a global pandemic only slowed their plans and created new hurdles to overcome. The restaurant opening date was moved from March and continued to be delayed as the couple waited for the curve of COVID-19 infections to flatten. Though the wait was long, the restaurant was open in time for Chanuka. 
Benny, a culinary school graduate, always wanted to open a restaurant and Ephrat shared his interest in the food industry, having worked as a waitress and a cashier for a cafe in Manhattan. She had a range of professional skills to bring to an enterprise adventure, gaining experience in customer service while working for a multimillion-dollar company and performing technical training for principals and teachers for a school system. She said that she welcomed any opportunity to learn new skills, which helped when it came to her career plans.
"Every single job I've done, there was always a purpose, something to be gained. It's not just about the hourly wages, I wanted to learn and grow my knowledge in hopes of one day opening my own business," Ephrat said. "More so, I wanted to show our two young children that you can pave your own way and determine your own success."
While working as an office manager for a garage door company, Ephrat got the chance to hone her creative side while designing vehicle wraps and other branding and promotional items. She saw learning more about digital media and web design as an avenue to use her creative talents to determine her own success and enrolled at the program, which is offered at GCC's GREAT Center. The certificate program offered a host of new skills to help market their business.
Ephrat noted that the couple envisioned a homey, farmhouse vibe for the business and she uses her knowledge of digital media to create branding, menus, and website content. She works on office work in the morning, as a cashier during the day, and updates social media in the evening.
"If there's a will there is a way, but first you must believe in yourself," she said.
---
Preview of next Alumni News Article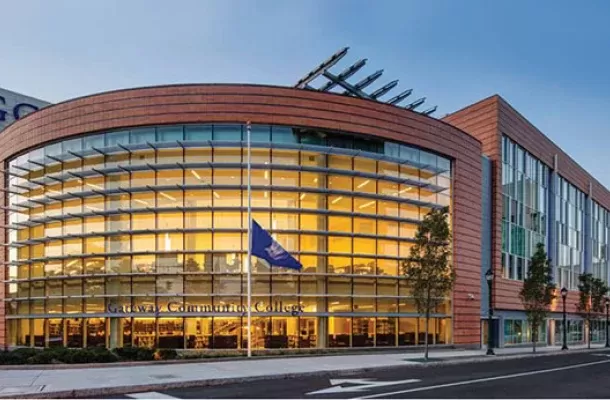 Barnetta Haywood's daughters call her the "queen of quotes" and for good reason. Haywood, a New Haven resident who graduates from Gateway Community College this June with an associate's degree in L...
---
Other Gateway Community College News
Latest Academic News
Latest Alumni News
Latest Arts & Culture News
Latest Campus Life News
Latest Community News