News Center
Bringing you the latest news and events from Gateway Community College.
Arts & Culture News
Artist Tony Falcone Exhibit at NewAlliance Art Gallery Celebrates 45 Years as the "accidental artist"
Share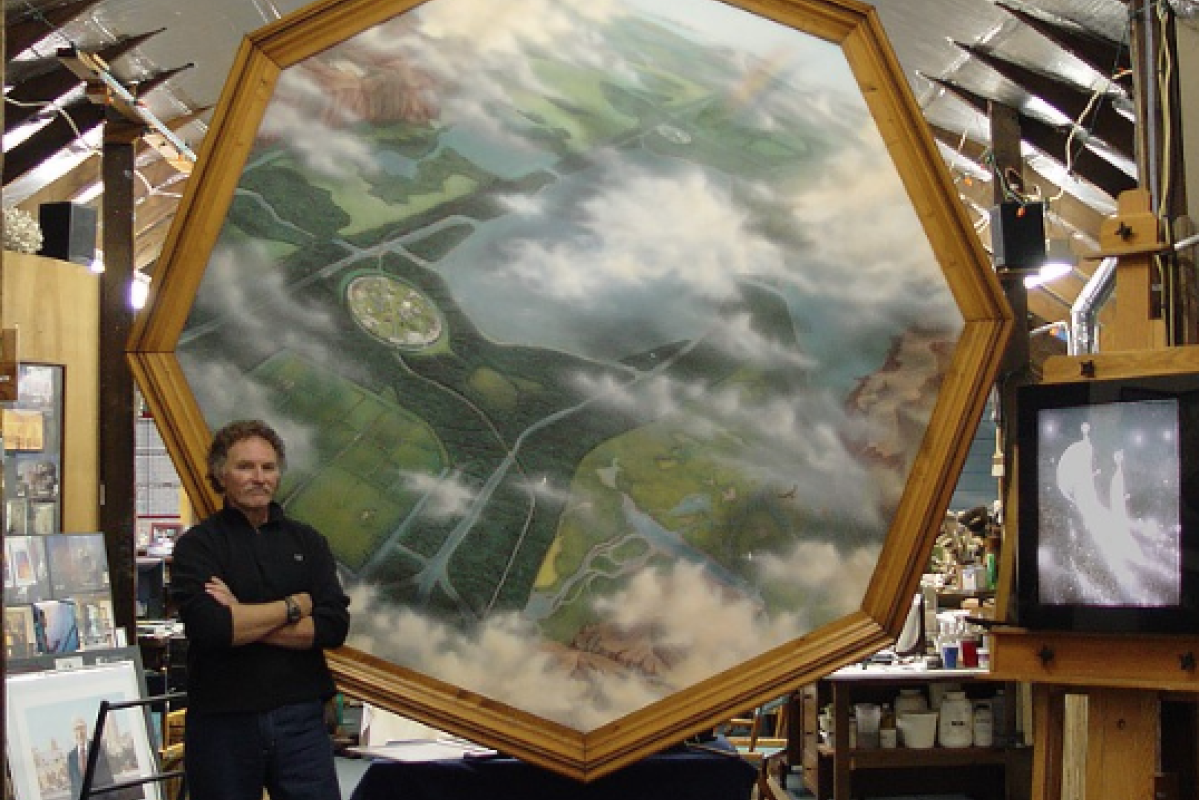 Tony Falcone, a New Haven area artist, muralist and sculptor, often refers to himself as an "accidental artist." In fact, "The Accidental Artist" is the name of a new art exhibit that opened recently at the Gateway Community College NewAlliance Foundation Art Gallery at 20 Church St., New Haven. 
And while it's true that Falcone's path to becoming a versatile and successful artist was marked by more than a few serendipitous twists and turns, it can also be argued that great artists achieve their fame and notoriety more by talent than accident.
The exhibit, which celebrates the 45th anniversary of Falcone's decision to become a full-time artist, runs through Feb. 14. It is open to the public Monday through Friday from 10 a.m. to 9 p.m. and Saturdays from 10 a.m. to 1 p.m.
A self-taught artist who works primarily on a commissioned basis, Falcone is best known for his murals, canvases, portraits and sculptures.
His mural commissions include wall paintings at the Yale University Law School; floor murals for Yale's Peabody Museum of Natural History; a commemorative "trompe l'oeil" mural for the Alumni Center at the U.S. Coast Guard Academy in New London; and a mural for the Special Olympics and International Festival of Arts & Ideas.
He also painted the 100-foot high, 70-foot wide mural of a horse race that graces the Sports Haven building in the Long Wharf section of New Haven.
Falcone has also painted murals for such New Haven institutions as the Floyd Little Field House at Hillhouse High School, the Shubert Theatre, Albertus Magnus College and the Fusco Corp.
In addition to his work as a muralist, Falcone, for the past 15 years, has created a series of commissioned oil paintings depicting the history of the Coast Guard from World War II through "9/11."
His portraits are held in the collections of Albertus Magnus College; Yale School of Nursing; Yale School of Medicine; Hospital of Saint Raphael; Gateway Community College; the Coast Guard Academy; New Alliance Bank; AIDS New Haven; Ronald McDonald House; Sickle Cell Community House; and in Superior and Probate Courts in New Haven and Hartford.
The subjects of those portraits include Connecticut Supreme Court Justice Fleming Norcott, Former Coast Guard Superintendent Vice Admiral Sandra L. Stosz, Sir Terrence Harrison, chairman, Rolls Royce and International Aero, Dr. Julia M. McNamara, president emerita, Albertus Magnus College and Dr. Dorsey Kendrick, president, Gateway Community College.
In addition, he recently completed a bronze portrait bust sculpture of legendary coach and NFL Hall of Fame quarterback Otto Graham for the Coast Guard Academy's Hall of Athletic Excellence.
Many of his works, particularly his popular cityscapes, landscapes and portraits of Connecticut's trees and wildlife, have been reproduced as collectible fine art prints, posters, etchings, greeting cards, paperweights and medallions.
All of that work and all of those commissions, tell Judith Andrews, Falcone's partner, business manager and wife, that the whole "accidental artist" routine might be a tad overstated.
"He says he's an accidental artist, but in all reality he was always meant to do this," she says. "He was born with the talent. He's always had the skills, the vision and the spirit to be an artist. This is what he's supposed to do."
Being an artist may well be what Tony Falcone is supposed to do, but that fact was fairly well hidden for the first 27 years of his life. Born in New Haven in 1949, and raised in nearby Bethany, Falcone – like most young men of that era – was more interested in girls, surfing and cars than creating fine works of art through most of his formative years.
As a child, his art work was limited to sketches of his favorite Disney characters. As he got older, the subject matter expanded to include funny cars, and monster trucks.
The NewAlliance Art Gallery at Gateway Community College is open from 10am to 9pm, Monday through Friday and from 10am to 1pm on Saturdays.  Falcone's  "Accidental Artist" retrospective runs through February 14, 2020.
---
Preview of next Arts & Culture News Article
An exhibit representing the work of realist painter Nicholas Halko, art professor and program coordinator at Gateway Community College, opens Tuesday, October 1 in the NewAlliance Foundation Art Ga...
---
Other Gateway Community College News
Latest Academic News
Latest Alumni News
Latest Arts & Culture News
Latest Campus Life News
Latest Community News