News Center
Bringing you the latest news and events from Gateway Community College.
Campus Life News
GCC Garage Rooftop Solar Panels Provide Renewable Energy, Cost Savings
Share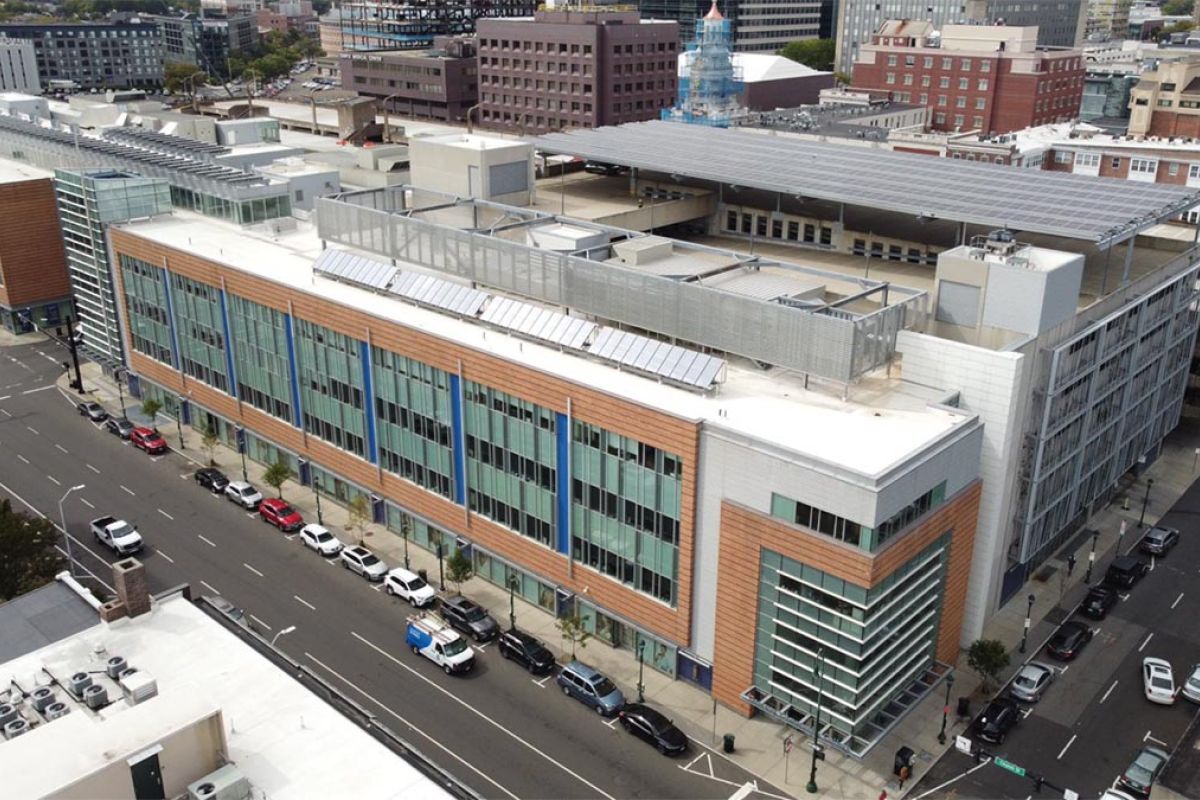 This past summer, the top level of the Gateway Community College garage became the college's latest innovative effort to increase energy efficiency and independence.
Working with Distributed Solar Development (DSD), Gateway completed a photovoltaic (PV) project that will bring more renewable energy – and significant cost savings – to the downtown campus.
A canopy of 732 solar panels will produce between 368,550 and 410,000 kilowatt hours of clean energy annually, according to Sharon Aceto, Associate Dean of Campus Operations. "The estimated base savings will be in excess of $600,000 over 25 years," she added.
"Our 17 public colleges and universities, including Gateway, are working to adopt new technologies to improve energy independence and efficiency via solar PV installations," noted Stephen Burke, Director of Facilities, Planning, and Engineering for Connecticut State Colleges and Universities. These include ground-mounted solar installations, parking lot canopies, roof mounted installations, and garage rooftop canopies, like the one at GCC."
"This is a real 'win-win-win' for the Gateway community," said Gateway Chief Executive Officer (CEO) Dr. William "Terry" Brown. "Not only does increasing energy efficiency show we take responsibility for our environment, the cost savings we will realize also will support our students and our educational mission. And, because the installation shields the roof from rain, snow, ice, and the sun's heat, it cuts down on wear and tear on our facility, and makes our students, faculty, and staff more comfortable."
The solar panel project is just the latest in a long line of Gateway's investments in environmental sustainability. In early 2013, less than a year after the downtown campus opened, the college achieved official Leadership in Energy and Environmental Design (LEED®) Gold certification from the U.S. Green Building Council, an internationally recognized third-party verification. Gateway's campus was the state's first LEED Gold public building. More upgrades and retrofits are planned to keep up with changing technology.
For an aerial drone panorama of the solar panels, go to https://www.youtube.com/watch?v=8XS32x03LMo
---
Preview of next Campus Life News Article
When Crishawn Green started at Gateway Community College (GCC) six years ago, she was raising three children as a single parent while successfully managing work as a licensed practical nurse (L.P.N...
---
Other Gateway Community College News
Latest Academic News
Latest Alumni News
Latest Arts & Culture News
Latest Campus Life News
Latest Community News