News Center
Bringing you the latest news and events from Gateway Community College.
Academics News
Options for Health Career Training
Share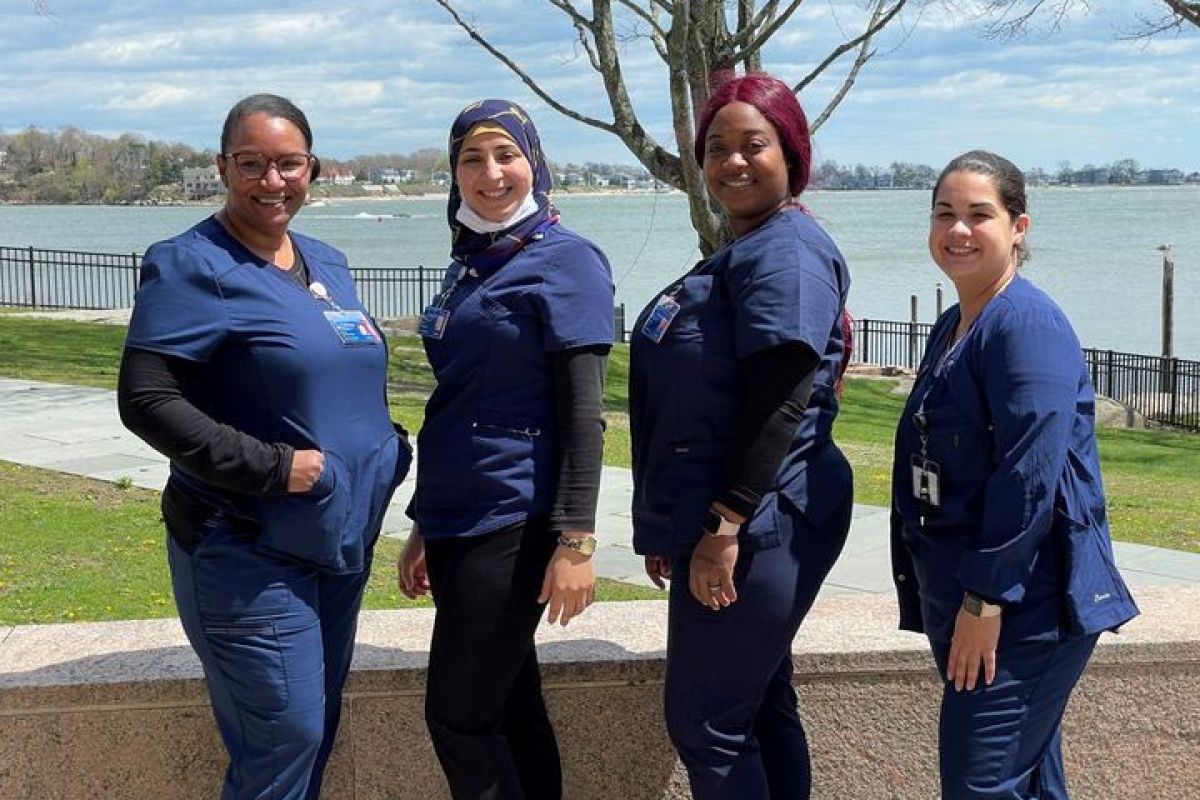 Many people see value in entering the healthcare field due to the large number of job openings or the rewarding nature of the work.
For those considering the field, there are a variety of options available not requiring a two or four-year degree. Gateway Community College (GCC) offers numerous certificate programs through the office of Workforce Development & Continuing Education. Current certificate offerings at Gateway include Certified Nurse Aide (C.N.A.) and Advanced Certified Nurse Aide, Central Sterile Supply, Community Health Worker, Medical Office Assistant, Patient Care Technician, and Pharmacy Technician.
Since fall 2020, 50 students have completed GCC's C.N.A. program. The program attracts a diverse mix of students; some are completing their C.N.A. training on their way to becoming a registered nurse, others are pivoting into healthcare later in their careers.
Students can complete the C.N.A. coursework in just six weeks, which includes 30 hours of clinical experience at a local nursing home facility. Most recently, students had the opportunity to train at Connecticut Hospice in Branford and Whitney Center in Hamden. The blended format includes an online component, making the C.N.A. certificate program accessible even to students who have experienced barriers preventing them from considering the training in the past. The shift to a blended format became necessary at the outset of the COVID-19 pandemic. For students, the change is welcome, allowing them to complete the first portion entirely online. Students move into a classroom equipped with mannequins to practice on and get hands-on experience, then to their clinical site. Students complete the program ready to fill job openings at a time when medical facilities have a tremendous need.
GCC's Community Health Worker Certificate can be completed in 21-weeks, which includes a six-week internship. Students learn non-clinical health assessment, advising, service coordination planning, and client-centered counseling. Positions in the field are particularly well-suited to bi-lingual speakers.
Whether a recent high school graduate or someone who wants to make a mid-career shift to healthcare, GCC works with students who might not otherwise be able to afford training. The SNAP Education & Training (SNAP E&T) program is open to students receiving SNAP benefits and offers free training to those deemed eligible. An added benefit of the program is the case management and support services provided.
Many students facing unemployment and underemployment can also qualify for training dollars available through the American Job Center (AJC). The office of Workforce Development & Continuing Education regularly refers students expressing interest in healthcare programs and unaware of the training opportunities open to them.
Outside the SNAP E&T program and the partnership with AJC, Gateway looks for alternative paths to help students. To that end, Erika Lynch, director of Workforce Development & Continuing Education, is managing the CT Statewide Healthcare Industry Pathway (CT SHIP), a grant that benefits several of the healthcare programs. The grant project period runs through January 31, 2025 and is expected to train students in over nine healthcare programs.
For information about healthcare certificates offered through the Department of Workforce Development & Continuing Education, please call (203) 285-2300 or email This email address is being protected from spambots. You need JavaScript enabled to view it..
---
Preview of next Academics News Article
Intelligent.com, a trusted resource for online/on-campus program rankings and higher education planning, has included Gateway Community College to its list of the Best Community Colleges in Connect...
---
Other Gateway Community College News
Latest Academic News
Latest Alumni News
Latest Arts & Culture News
Latest Campus Life News
Latest Community News