News Center
Bringing you the latest news and events from Gateway Community College.
Alumni News
GCC Graduate, 60, Finds Healing Through Education
Share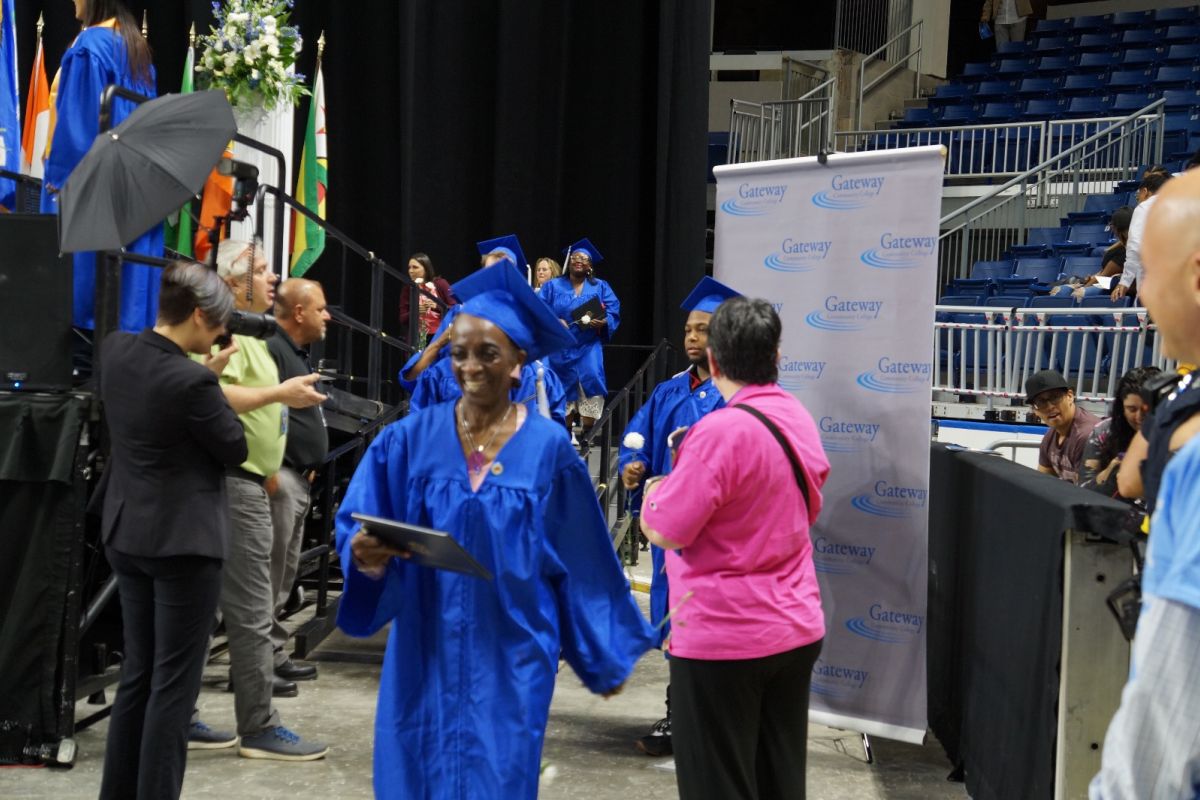 Recent GCC graduate Gail Williams struggled with drug addiction for years before she discovered healing through education and found a new purpose in helping others. 
On May 23, Williams, 60, received an associate degree in Human Services and three additional certificates:  Youth Worker, Human Services, and Therapeutic Recreation.  At the commencement at the Webster Bank Arena, Williams had ten of her family and friends cheering her on.  A mother of four and grandmother to eight grandsons, Williams will seek employment helping young men, particularly those who have been in prison.   
Completing her degree decades after dropping out of high school had special meaning to Williams.  Education had been important in her family; her father and three of his sisters had all graduated as valedictorian in high school.  She lost her mother at age 14 and dropped out of high school in tenth grade. 
Trying for years to get off of drugs with limited success, Williams found that without a way to keep her mind occupied, it was easy to slip back into old habits.  She eventually ended up at New Haven Adult Education, where she earned her high school diploma within a year.  With a high school diploma in hand, Williams started considering her future. 
"Thinking about going to school changed everything," she said.  "When I made up my mind to go to school, it saved me."
Williams decided to enroll at GCC to pursue Human Services.  Williams said that finding someone to talk to and relate with when discussing problems is helpful, but can be difficult.  A plan that involved going to college and eventually finding a career helping others, she now had a long-term goal of obtaining her associate degree. 
During an internship At Believe in Me Empowerment in New Haven, a corporation whose mission is to improve the lives of children, young adults and families impacted by or affected by incarceration, she was able to get experience in the field and see that she is well suited to this career path.
Human Services Program Coordinator Kim Shea, M.S.W., said that she was impressed by Williams' persistence.  She was usually the first to arrive in class and showed creativity in her class presentations. 
"She has a strong desire to help others and an understanding of the barriers that people face every day as they try to make changes in their lives," She said.
---
Preview of next Alumni News Article
Members of the Gateway Community College (GCC) Class of 2019 celebrated their graduation on Thursday, May 23 during the college's 27th Commencement Ceremony at the Webster Bank Arena.  The Class o...
---
Other Gateway Community College News
Latest Academic News
Latest Alumni News
Latest Arts & Culture News
Latest Campus Life News
Latest Community News