News Center
Bringing you the latest news and events from Gateway Community College.
Campus Life News
GCC Graduate Leaves Healthcare for Business Opportunity
Share
Many people dream about leaving a secure job to explore different interests.  For Gateway Community College (GCC) alumnus Valin Ingram, there is no time to waste merely dreaming about a new path.  
Valin, a Patient Care Technician at Yale-New Haven Hospital, will soon begin work as an Area Manager at Amazon in Wallingford.  The position, housed in the logistic department, will tap into his education and business experience accumulated over the years, offering a broad path for the future. 
Valin's journey through GCC took six years and began in 2012 when he was 38.  He moved to Connecticut from Jamaica to improve his education and employment opportunities.  Although he had business experience doing analytical work for Digicel Telecommunication in Jamaica, the medical field was a familiar path in his family and he decided to take that route.  He became a Certified Nurse Aide and advanced to become a Patient Care Technician, but his interest in business remained.  
As he journeyed through GCC, he worked at Madison House and Yale, as a car salesman at Napoli Nissan, and sales associate at AutoZone while also raising his teenage son.  He completed associate degrees in both Liberal Arts & Sciences and Business Administration Management at Gateway, then finished his Bachelor of Science in Business Administration with a concentration in project management at Charter Oak State College.  At GCC, Professor Joe Maynard, Associate Professor Catherine Babbitt and Professor and Rev. John H. Scott, III, made lasting impacts. 
"Gateway gave me a start to my educational journey and I'm forever grateful for that," Valin said. 
Intrigued by how business analysts can drive change in an organization, Valin returned to GCC this year and completed the Business Analyst Certificate with an internship at Intact Insurance Specialty Solutions in New Britain, where he worked in collaborative projects involving senior leadership. 
GCC's Business Analyst Certification, a live remote program offered through GCC's Workforce Development & Continuing Education department, recently earned endorsement by the International Institute of Business Analysis™ (IIBA®).  The program is the first of its kind in Connecticut to achieve recognition through the IIBA Academic Program.  Instructor Kevin Mills invited numerous speakers to discuss projects that they conducted with different stakeholders, which Valin said kept the information relevant, a welcome change from textbook learning. 
Throughout the program, Valin learned about methods used to collect and analyze data to gain insights about a business and suggest changes.  Improving efficiencies can touch numerous areas in a business, rather than one narrow focus, a factor that Valin considered when shifting his career path.  Valin noted that the road to making a significant career shift involves being open to learning and a willingness to take chances because opportunities don't always present themselves.  
Pam Walsh, continuing education coordinator, said that Valin's success is a product of the work he puts in. 
"Valin took every opportunity made available through the business analyst certificate program and by doing so, he managed to secure a sought-after internship.  Valin demonstrates how perseverance, hard work, and commitment to lifelong learning can break through barriers and jump start a pathway to a new and fulfilling career," Walsh said.
Photo attached:  Gateway Community College (GCC) alumnus Valin Ingram, who has worked for years in healthcare, will embark on a new career path in 2022
---
Preview of next Campus Life News Article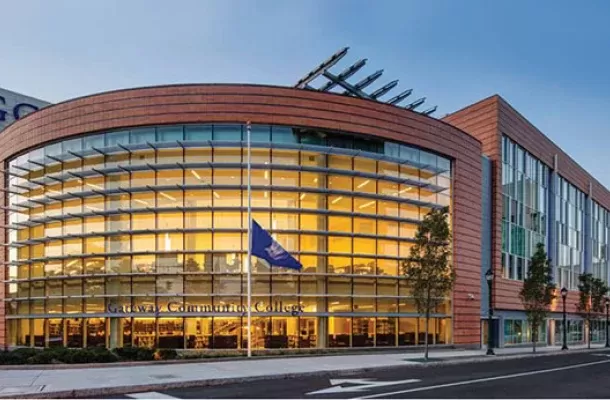 By Carlin Fitzpatrick, GCC Student Bob Berkowitz, a former CNN White House correspondent, ABC News reporter, and "Today" show host exposed the naked truth about what it takes to be a successful jo...
---
Other Gateway Community College News
Latest Academic News
Latest Alumni News
Latest Arts & Culture News
Latest Campus Life News
Latest Community News