News Center
Bringing you the latest news and events from Gateway Community College.
Campus Life News
GCC Phi Theta Kappa (PTK) Honor Society Inducts New Scholars
Share
Gateway Community College's Phi Theta Kappa (PTK) Honor Society inducted 35 GCC scholars on Nov. 6 into one of the country's most respected PTK chapters, the Alpha Xi Theta chapter. The inductees join more than 450 GCC students who have been inducted into PTK since the chapter started.
 
The new inductees are: Wisteria MacDonald, David Meza-Sandre, Cashaya Sanchez, Linda LaLuna, Leah Reed, Amy Acampora, Filiz Balandi Turan, Samantha Foley, Christopher Nagle, Kayla Perez, Jessica Suraci, Nicholas Dollahite, Natalia Giacco, Johani Sepulveda Nieves, Christina Immediato, Hoony Kwak, Alexandra Laudun, Briana Perigyi, Michelle McCullouch, Christopher Balich, Adam Coleman, Ashley Fernandez, Elizabeth Figueroa,Cynthia Torres, Kristina An, Ian Cheung, Marissa Lambert, Margaret Gaughran, Caitlyn Kelley, William Kelley, Kevin Jubb, Ornela Sollaku, Lisa Kelley, Sarvenaz Keshavarz and Jose Munguia Ahuatl. 
Despite the inability to hold in-person meetings due to Covid-19, the chapter was not discouraged by being off-campus. They continued to hold chapter meetings every other week and to conduct the work for which they are nationally known, including formulating a study to help Gateway identify obstacles students may have navigating college services. 
The Chapter's Honors In Action (HIA) project is researching online learning and its effects on mental health; they interviewed staff in the GCC's Accessibility Office and Wellness Center to learn more about mental health services available to students. As a result of their efforts, they are compiling a summary of resources available to students who are struggling with "the new normal" during the pandemic.
 
"Induction into the Phi Theta Kappa is an honor that is earned through diligence and hard work," said Susan Swirsky, scholarship administrator and advisor, Alpha Xi Theta Chapter, GCC. "The outstanding academic record of these students has brought them to this moment, and I encourage them to celebrate their success and then keep going, keep reaching and keep learning. They make us all #GCCProud!"
 
Established in Missouri by two-year college presidents in 1918, PTK International Honor Society serves to recognize and encourage the academic achievement of two-year college students and provide opportunities for individual growth and development through honors, leadership and service programming. Today, Phi Theta Kappa is the largest honor society in American higher education with more than 2 million members and 1,300 chapters located in all 50 of the United States, U.S. territories, British Virgin Islands, Canada, Germany, Marshall Islands, Micronesia, United Arab Emirates and Palau. In 1929, the American Association of Communication Colleges recognized Phi Theta Kappa as the official honor society for two-year colleges. 
The Alpha Xi Theta is an award-winning, Five Star Chapter. It was named among the top 100 chapters in the nation (out of 1,300).
---
Preview of next Campus Life News Article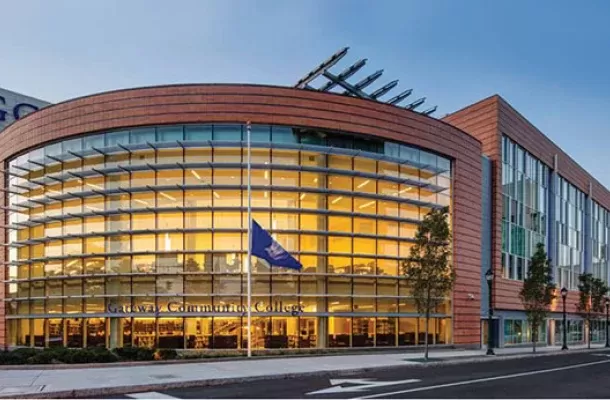 Gateway Community College student Shamecca Davis of Rootuals took second place and a $500 cash award in the inaugural Minority Small Business Showcase held Oct. 17 at the SoNo Collection mall in No...
---
Other Gateway Community College News
Latest Academic News
Latest Alumni News
Latest Arts & Culture News
Latest Campus Life News
Latest Community News