News Center
Bringing you the latest news and events from Gateway Community College.
Campus Life News
Ned Helps GCC Student Ariana Parker Navigate Campus - and Life - With Ease
Share
Though they've only been together since early January, Ariana Parker and Ned have already forged a deep and abiding relationship, especially when Ned is off duty and can just wag his tail and act like the "big, loveable teddy bear" he really is.
"He's very focused, very alert, and he works very well in a harness," Parker said of her first seeing-eye dog. "But he is also very sweet. When he's off-duty, he really is very, very huggable."
Though Parker suffers from severe myopia and is legally blind, the 19-year-old, first-year student at Gateway Community College traverses the crowded and busy Gateway campus in downtown New Haven with ease and confidence, now that Ned, a 70-pound jet black Labrador retriever, is always at her side.
"I'm much more confident now that I have Ned," she said. "He's really had a huge impact on how I get around. He's made me a much more mobile and self-assured person. I feel much safer when I'm doing things like crossing the street or walking through large crowds. The difference between having Ned at my side and using a cane is like night and day."
Parker – a Meriden resident who is studying Early Childhood Education at Gateway – and Ned were paired through a 66-year-old Yorktown Heights, N.Y., organization known as Guiding Eyes for the Blind. Guiding Light, a 501(C)(3) organization, is one of 11 schools across the United States accredited to provide guide dogs for people who are legally blind. The organization's extensive breeding program produces almost 500 puppies per year.
Parker first travelled to Guiding Light's Yorktown Heights campus about two years ago to attend an open house for people with vision loss. During the open house, visitors were allowed to meet and walk with trained guide dogs. She immediately liked what she saw.
"I was sold right from the very start," she said. "I knew right away that a guide dog was going to be a good fit for me."
By late 2019, Parker was assigned Ned, a black lab who was born on March 8, 2018, in Virginia, and raised by one of Guiding Eyes' 500 or so volunteer puppy raisers across the nation. Puppy raisers usually care for their dogs for about 12 to 16 months, or from the time the puppy is about two months old until it reaches the age of 17-to-18 months.
About 92 percent of all Guiding Eyes guide dogs are Labrador retrievers. The remaining eight percent are German Shepherds, said Lauren Doninger, professor of Psychology at Gateway and the college's program coordinator for Liberal Arts and Sciences. Doninger herself is a Guiding Eyes volunteer puppy raiser. Her current puppy, Meadow, is the fifth pup she has raised for the organization.
"You get attached to the pups during the 15 or so months that they're under your care," Doninger said. "It's a little sad to see them go, but the fact that you know they're going out in the world to help people with vision loss lead better, safer and more mobile lives really takes a lot of the sting away."
After being assigned to Ned, Parker travelled to Yorktown Heights again to meet him and to begin an intensive three-week orientation and training course.
"There's quite a lot of bonding that takes place during that three-week period," Parker said. "By the end of it, I knew Ned was the right dog for me."
She said she receives ongoing support and advice from the Guiding Eyes organization and its field representatives. The organization provides its services to the vision impaired at no cost, despite the fact that it costs about $50,000 simply to train one of its guide dogs. 
"They don't charge the people they help and they receive no government funding," Parker said. "All costs are covered by donations." She added that the administration, faculty and students at Gateway have been very supportive and quick to adjust to Ned's presence in their midst.
According to Iheartdogs.com, it's best not to pet a service dog; to keep your own dog away from a service dog; to not offer a service dog food; and to always give a service dog and its owner the right-of-way. On occasion, Parker said, a fellow student might whistle at or attempt to pet or talk to Ned while he is at work, but most of Parker's fellow students are aware of the fact that guide dogs should not be distracted while they are executing the duties they have been trained to perform.
"People are a lot more sensitive as to how they should behave around guide dogs because there are a lot more people around with guide dogs," Parker said.
---
Preview of next Campus Life News Article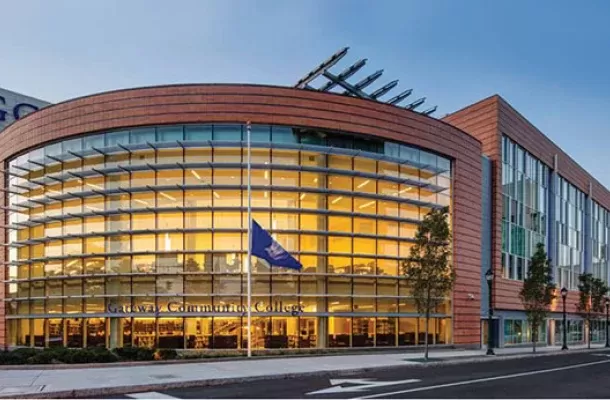 There are about 7.8 billion people on the planet and at the rate she's going, Julia Seraphine will be in electronic contact with most of them in about 10 years. Seraphine, 21, graduated magna cum ...
---
Other Gateway Community College News
Latest Academic News
Latest Alumni News
Latest Arts & Culture News
Latest Campus Life News
Latest Community News