News Center
Bringing you the latest news and events from Gateway Community College.
Alumni News
"Queen of Quotes" Inspires Daughters With Degree
Share
Barnetta Haywood's daughters call her the "queen of quotes" and for good reason. Haywood, a New Haven resident who graduates from Gateway Community College this June with an associate's degree in Liberal Arts and Sciences, can't help but share inspirational maxims, even in casual conversation, because, as she puts it, she "lives through affirmations."
"I want to be a living example of how a woman should be despite what's thrown at you," Haywood said. "I want my daughters to know it's never an option to fail. It's up to you whether or not you succeed. You are defined by what you choose."
Haywood herself faced tough choices as she worked to get her degree. She enrolled part-time at Gateway in 2012, when the new campus opened, then took time off when one of her daughter's autoimmune disorders took a turn for the worse. Juggling work, family commitments and her daughters' health issues (her oldest suffers from autoimmune issues; her youngest, ADHD, ODD and asthma) as a single mother proved to be all-consuming. She didn't re-enroll full-time until 2018.
When Haywood returned to Gateway, her message to her girls was pointed: "I wanted to teach them that it's important to not quit and to pursue higher things," she said. "You have to keep fighting through pain. Everyone experiences mental pain and trauma. I worked and went to school and my daughters watched everything that I said and did. I lead by, 'Do as I do.' I set an example."
Despite her determination, Haywood faced an onslaught of setbacks. A fire destroyed her home. She moved her family into a hotel temporarily, then into an apartment and finally, a permanent place to call home. She lost her job during Covid-19, as well as several family members and a friend. She struggled to balance classes, homework, physical therapy for her daughter and homeschooling, working on her own coursework "whenever and wherever" she could.
"Some people told me to quit, but I refused," Haywood said. "It just motivated me more. Some people won't cheer you on and that's fine. Not everyone needs to understand your journey." All along, she reminded her daughters, "Don't tell me what you can't do. There's always a way. We can't afford a tutor, but we can get on YouTube and get tutorials there. And we got through Algebra!"
She found support in several professors at Gateway, particularly in Allan Ballinger, assistant professor of History and Political Science.
"I had Barnetta as a student in both my U.S. History and American Government classes, and she never ceased to amaze me," Ballinger said. "Juggling the role of being a single mother, dealing with all too frequent trips to the hospital with her daughter, caring for other family members in crisis, Barnetta always keeps a positive attitude, and always does well in her classes. I've told her that she's my hero. I know graduation is only the first step on the way to many great achievements!"
Haywood has already decorated her kitchen in anticipation of graduation (see note about Gateway's Virtual Commencement, below). Alongside earning her own degree — she is the first out of her maternal grandmother's children and grandchildren to earn one — she is celebrating the accomplishments of her children. Her daughters, now 13 and 10, did so well in school this year that one had a GPA of 4.33 and the other wrote a speech for school that lovingly references one of the Queen of Quote's most memorable reminders: "Wipe your tears. Life is challenging. You have to push forward and fight even when you feel defeated because there is never a reason or excuse to fail."
---
Preview of next Alumni News Article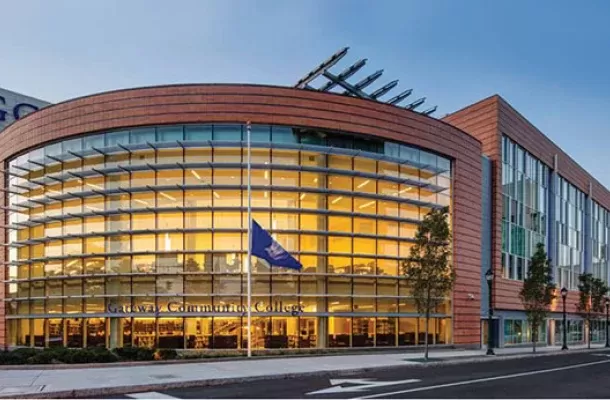 Gateway Community College is proud to announce its first graduating class of the newly- created Surgical Technology program, licensed by the Connecticut Board of Regents. The degree joins a top-rat...
---
Other Gateway Community College News
Latest Academic News
Latest Alumni News
Latest Arts & Culture News
Latest Campus Life News
Latest Community News