News Center
Bringing you the latest news and events from Gateway Community College.
Campus Life News
Student Activities Events Return to Campus
Share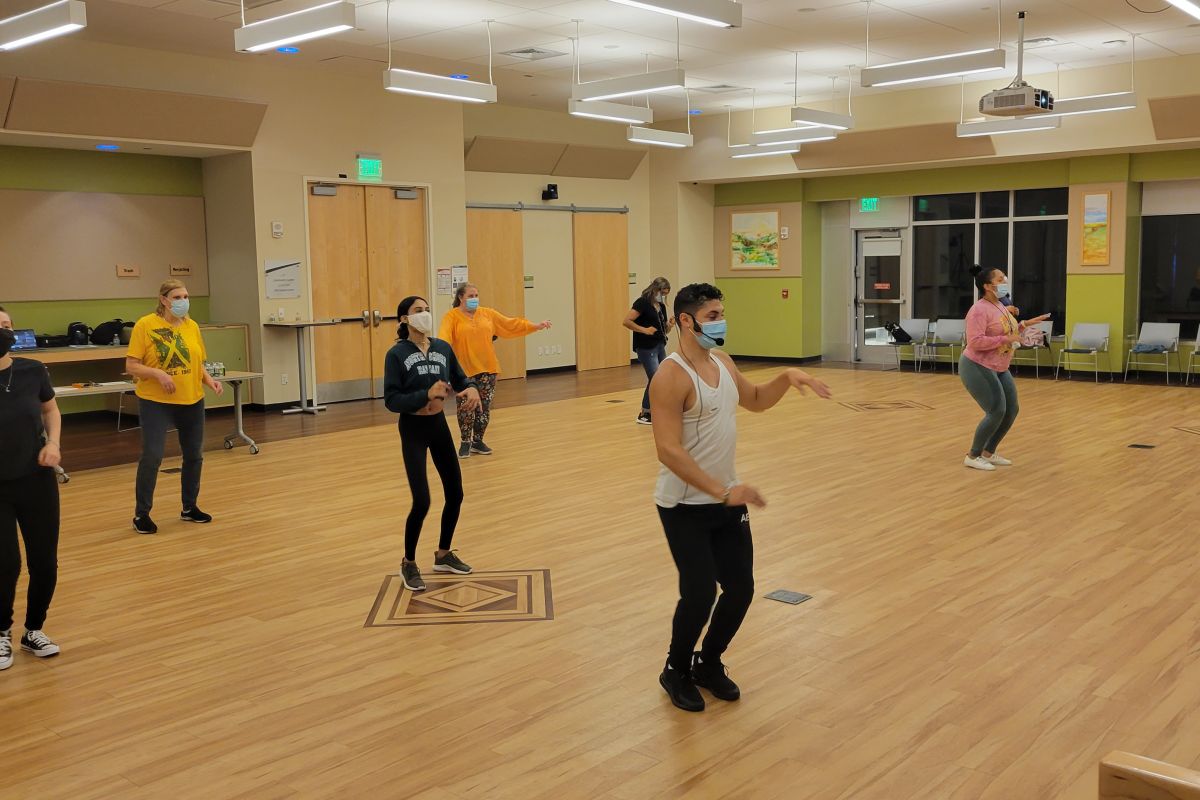 After over a year of virtual meetings and events, the Office of Student Activities (OSA) returned to on-campus events this August. 
Welcome Week kicked off the fall semester with a week full of celebratory activities. Fresh popcorn and drinks were served in the Fairway. Students, staff, and faculty enjoyed food and arcade games at Barcade. Dr. Brown closed out Welcome Week with an appearance behind Ben & Jerry's counter where he served free ice cream to students.
Beyond Welcome Week, the Office of Student Activities (OSA) celebrated Hispanic Heritage Month and observed Domestic Violence Awareness Month. Alfred Guante, Director of the Office of Student Activities, shared some highlights:
Latin Therapeutic Dance, September 17 – October 15
In celebration of Hispanic Heritage Month, the Office of Student Activities partnered with Latin Dance Instructors Freddy Ramirez and Ziael Aponte.  The classes were offered each Friday evening during Hispanic Heritage Month (September 17th - October 15th).  Freddy & Ziael had students laughing, exercising, learning basic and complex steps for Salsa, Merengue, and Bachata dance styles.  It was an immersion into relaxation through Latin Culture.  With the help of Alfonzo Lewis and the Educational Technology team, the classes were all offered in a hybrid format.  This allowed students to participate from the comfort of their own home along with their loved ones.
 Bystander intervention and Domestic Violence with Kyle Richard, October 28
Speaker Kyle Richard is an advocate for violence prevention, a violence survivor, a national speaker, a sports activist, and a former captain of the SUNY Cortland Football team.  He spoke in person on Thursday, October 28th with staff, faculty, and GCC students including most members of our Men's Basketball team.  Kyle shared his personal struggles, his journey, and his advocacy for preventing domestic and sexual violence. He left it all on the table, even shedding tears in front of the audience.  Judging by the constant head nodding of the audience, it was a message well received.
Red Flag Campaign, Month of October
In observance of Domestic Violence Prevention Month, Student Activities participated in The Red Flag Campaign. The month long event series dealt with healthy relationships, resources for students to consider regarding domestic violence, mental health, and sexual assault. Kyle Richard's event was apart of the Red Flag Campaign series. The entire Red Flag Campaign was led and coordinated by Assistant Director of Student Activities, Gillian Farnan. 
The Connecticut Board of Regents for Higher Education (BOR) set forth COVID-19 vaccination requirements for students participating in on-campus activities. Students who have participated campus had to be in compliance with these guidelines. To review these requirements, please visit https://www.ct.edu/covid19#faqs.
For more information about the Office of Student Activities and to view upcoming events, visit www.gatewayct.edu/Student-Activities.
---
Preview of next Campus Life News Article
Two distinguished Gateway Community College (GCC) employees were honored for their important work at a ceremony on GCC's campus on Friday, October 29, 2021. The event was held in-person and streame...
---
Other Gateway Community College News
Latest Academic News
Latest Alumni News
Latest Arts & Culture News
Latest Campus Life News
Latest Community News