News Center
Bringing you the latest news and events from Gateway Community College.
Campus Life News
Teisha Pittman: 'I Never Gave Up My Dream'
Share
Gateway Graduate Named Student of the Year, President of Honor Society Despite Disability, Personal Struggles
When it came to achieving her dream of becoming a nurse, Rahteisha "Teisha" Pittman didn't let anything get in her way: not an abusive relationship, renal failure, kidney dialysis, and certainly not the COVID-19 pandemic.
The long journey neared its end as Pittman was recently "pinned" at a unique outdoor ceremony at Gateway's North Haven campus. She has also received Gateway's Student of the Year Award. As she awaits GCC's virtual June 25 graduation and word on when she can sit for her NCLEX (National Council Licensure Examination) to become a registered nurse, the 38-year-old mother of two is looking for nursing jobs and has been accepted into Quinnipiac University's RN to MSN program.
Pittman's first attempt at higher education was at Housatonic Community College, when she was 24. While carrying her second son, her high-risk pregnancy required her to leave school. Two years later, she enrolled at the University of Bridgeport to study accounting, which she thought would provide the regular hours she needed to raise her children. Then, Pittman had to relocate to New Haven to remove herself and her boys from an abusive relationship.
"I had to start all over and put school on the backburner," she explains. She worked in customer service and later became an insurance agent. In 2012, she began a committed relationship with her now-partner Candis. Four years later, and at Candis' urging, Pittman sought treatment for terrible headaches, only to learn she had end-stage renal failure caused by uncontrolled hypertension.
Pittman began a difficult three-times-weekly regimen of hemodialysis, while Candis took care of the children and household chores. After her initial diagnosis, Pittman, unable to work, was angry and depressed. "Candis told me, 'You've always wanted to go back to school. Maybe this is God's way of telling you it's time.'" Pittman found Gateway's nursing program, enrolled as a full-time student in 2016 and began ''banging out" prerequisites while still going to dialysis. It was a hard two years, but she was accepted into the Nursing program in 2018.
Pittman joined GCC's chapter of the Phi Theta Kappa Honor Society in 2017. She was elected VP of Records, then Executive VP and, most recently, President. She also is president of PTK's New England Region. By then, she was doing at-home peritoneal dialysis, which requires her to be hooked up nightly to what she jokingly refers to as her "leash" for nine hours. When she went to her first PTK conference, it was the first time she had traveled while on dialysis. "I'm still me and I don't want pity, but nobody treated me any differently."
The financial aid Pittman received at Gateway made all the difference. Because her disability prevents her from working, she qualified for federal financial tuition assistance. She received a Fredrick and Elisabeth DeLuca Vocational Scholarship, which will pay for her NCLEX exam. She also was awarded the Susan K. Swirsky PTK Officer Scholarship, which provides $750 for a chapter officer transferring to a baccalaureate program.
Pittman is on a kidney transplant list and hopes to be transplanted in a year or so. In the meantime, she's focused on her nursing future, which she hopes will include teaching, a way to "give back." Her inspiration comes from her Aunt Leslie, also a nursing professional, and Dawn, her long-time dialysis nurse. "I hope I can be as good an inspiration to others as she was to me."
---
Preview of next Campus Life News Article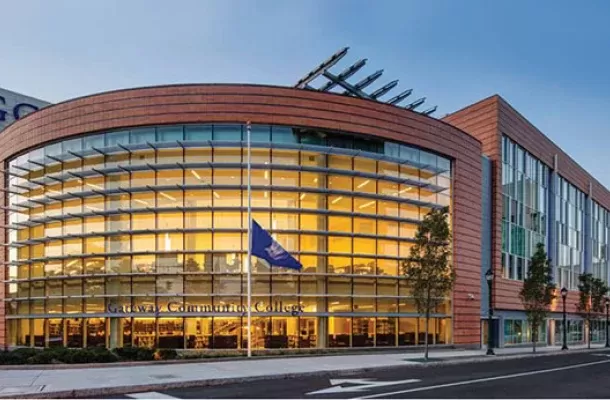 The road to college and career can be long and winding. For soon-to-be Gateway Community College graduate Sheena Infante-Davis, it was steep and rocky, as well. Sheena, who majors in Restaurant Fo...
---
Other Gateway Community College News
Latest Academic News
Latest Alumni News
Latest Arts & Culture News
Latest Campus Life News
Latest Community News